Areas we Inspect After Storm Damage
3/23/2022 (Permalink)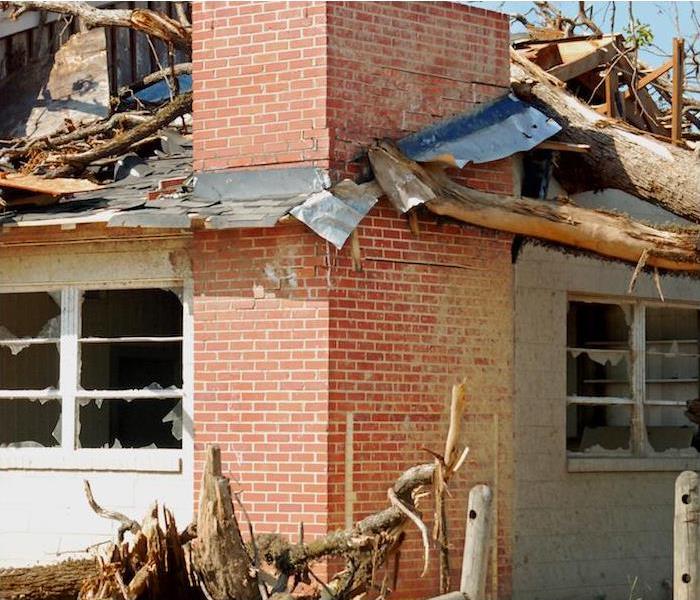 SERVPRO of Paulding/Polk Counties will help you with the whole restoration process after a storm. Call us today.
You never know when you might suffer property damage due to bad rain, storm damage, wind or debris. In the wake of severe weather, you'll want to contact SERVPRO to inspect, document and restore any damages to your business for you.
There is a lot you can do to mitigate storm damage, but it's never completely preventable. Storms can be extremely costly to businesses.
In fact, experts predict that storm and flood damage could cost businesses over $13 billion in 2022.
It's not always easy for the untrained eye to spot damage after a storm, and damage that goes unnoticed can grow and become even more costly and destructive. When you call SERVPRO to inspect the damage, here are just a few of the main areas we would look for when inspecting your property:
The Roof
Roof damage is one of the most often-occurring kinds of storm-related property damage. We will inspect the roof for loose, curled, missing or cracked shingles.
Additionally, dark patches on asphalt shingles may indicate water damage. Dents or weakened areas on the shingles are indicators of hail storm damage.
We will check for water damage indoors that has sneaked through a damaged roof. Water stains or leaks running down the wall, through a skylight or pooling in the center of the ceiling are further indications that the roof has a leak.
However, not all indications of water damage are obvious. The wisest course of action is to hire an expert to evaluate your house and search for indicators of a leaking roof.
The Exterior
Following a severe storm, you're likely to find debris scattered around the exterior of your property. These pieces of debris may strike your property, cars or other structures, such as barns or machinery.
We will inspect the whole exterior of your property for loose or broken siding, doors, windows and gutters, among other things. Oftentimes, the exterior can be a significant source of unwanted water leakage that can cause interior water damage and flooding during a storm.
Dents or bends in gutters are often the result of hail, wind and/or debris damage. It is critical to employ an expert to evaluate, record and repair any possible damages precisely and safely.
Windows and Doors
Windows may potentially sustain damage during a severe storm, especially one with heavy winds. Our technicians will inspect the glass for broken panes, shattered glass, chips, scratches and fractures. Additionally, we will search for indicators of damaged seals that allow water to enter through windows and doors.
SERVPRO of Paulding/Polk Counties will help you with the whole restoration process after a disaster, from damage assessment through restoration and rebuilding. Do not hesitate to contact our professionals to get your storm damage emergency repaired immediately and properly.